Book DJ Maddox and make your prom perfect!
You want your Prom Party loud? No problem! You want bright flashing lights and lasers? Easy! Can't get into the local nightclub with your brothers fake id? Don't sweat it!
Well bring the club to you with our 4KW sound system and super bright laser beams!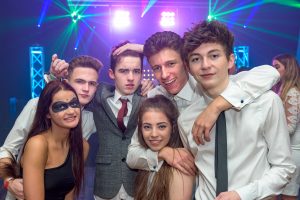 When it comes to a party we are the Prom Kings! We'll flame the competition and make them look like a 1990s school disco with tinny speakers and 4 lights in a box.
It's all about one-upmanship! Let the other schools book those guys and get one over, because their party won't be anything like ours! Sure they can arrive in a Lamborghini Limo, but their party's gonna suck.
That's not just our opinion. Check out our Facebook Reviews. We have over 200 five star ratings. Head on over to the Prom Galleries or have a look at our Galleries on Facebook.
From freshers to graduation, Christmas and valentines. All just another excuse to have a party. And there's nothing wrong with that. Give us a call we we can cover all your party needs!
Remember it's not a passing out ceremony unless you pass out!


Are we going to turn down for noise complaints? NO WAY! You booked the venue and we'll make the noise. Remember It's your right to party.
Please make sure you check with us before booking as we are banned from several venues.
Do you want to look glamorous? Then take a walk down the red carpet and get some media attention. Social media that is!


With our red carpet Photo Booth Mirror you can take endless selfies all night long. Instantly upload to Facebook and Instagram. Get the media attention you deserve! Unlimited prints included as standard.
The prom DJ package does not include the mirror. Sorry people! We will however give you a discount price if you book the two together.
We've got A stars when it comes to safety. We're fully insured and PAT tested. So when you're shoulder surfing you won't trip up, because all of our cables are taped down.
WARNING! Booking DJ Maddox may seriously affect your grades!
BOOK NOW!
Get in touch via the contact page
Message us on Facebook
Call on 07455 916 165