Fall in love with our stunning starlit dance floor. It will completely transform your first dance into a romantic fairy-tail you will remember forever.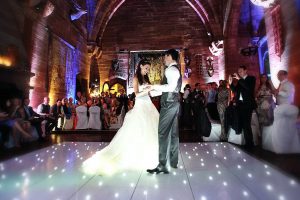 Imagine dancing on the stars. With over 1000 twinkling lights beneath your feet it's not difficult. It's the perfect complement to your perfect day.
Our starlit dance floor will completely transform your wedding venue and really make an impact, leaving you and your guests in awe, simply saying "wow!".
It's available in gloss white with sizes up to an 18ft x 18ft square or a 20ft x 14ft rectangle.
You can use it to cover an existing drab and dreary wooden dance floor, or lacklustre hotel carpet.
The dance floor can be laid in approximately 1 hour in most venues.





It's also perfect for breakdancing the worm!
BOOK NOW!
Get in touch via the contact page
Message us on Facebook
Call on 07455 916 165